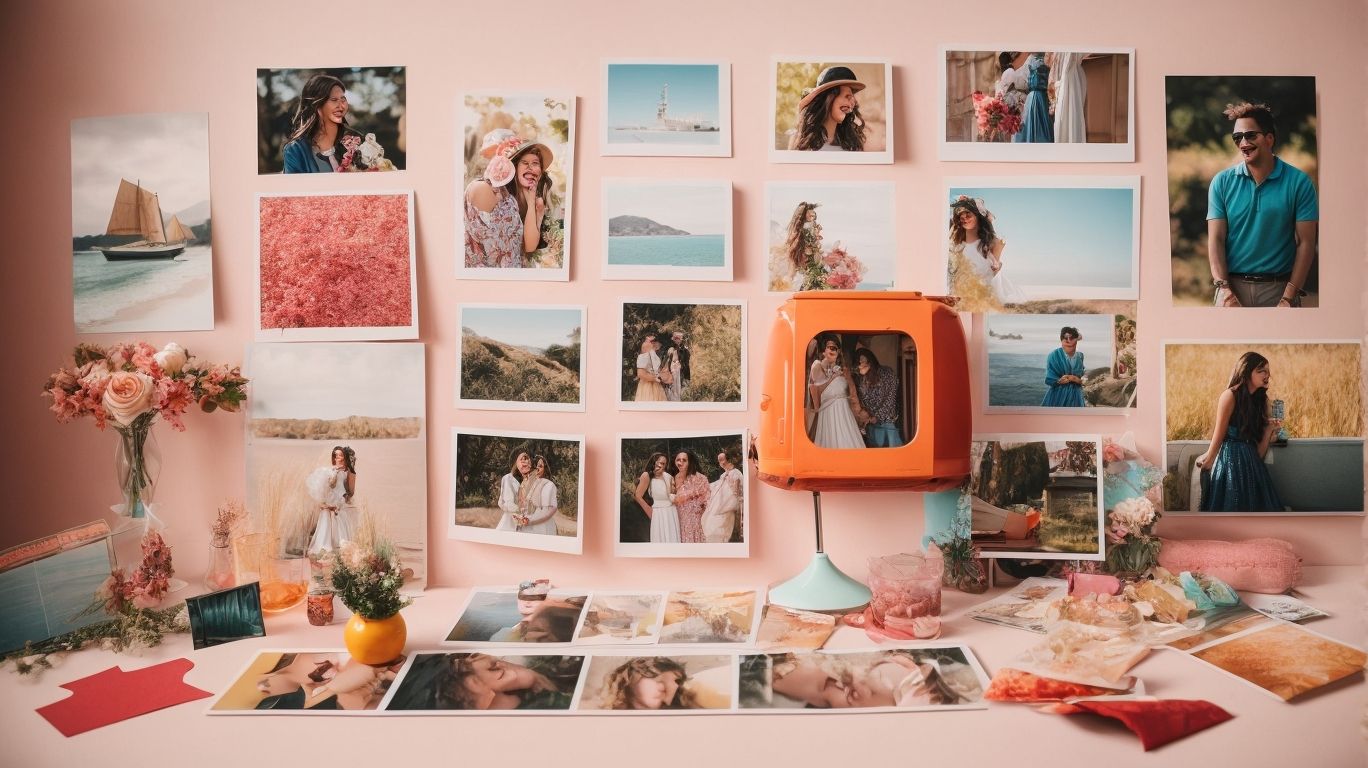 Photo booth print ideas have become increasingly popular for various events and occasions. They serve as a fun and interactive way to capture memories and provide guests with personalized keepsakes. Whether it's a wedding, party, or corporate event, there are countless print ideas to enhance the photo booth experience. Let's explore some of the print ideas for different types of events.
Print Ideas for Weddings:
1. Customized Photo Strips: Personalize the photo strips with the couple's names, wedding date, or a special message.
2. Polaroid Style Prints: Mimic the classic retro Polaroid look to add a nostalgic touch to the wedding memories.
3. Themed Photo Booth Templates: Choose themed templates that complement the wedding theme and incorporate elements like floral designs or vintage aesthetics.
4. Photo Guestbooks: Create a unique guestbook where guests can place their photo booth prints and leave heartfelt messages.
Print Ideas for Parties and Events:
1. Photo Magnets: Turn photo booth prints into magnets so that guests can display them on their fridge as a fun keepsake.
2. Photo Booth Props and Cutouts: Include props and cutouts that guests can pose with, adding extra entertainment and creativity to the photos.
3. Animated GIF Prints: Offer prints that showcase a series of photos compiled into an animated GIF, capturing the dynamic moments.
4. Collage Prints: Create collage prints that combine multiple photos from the photo booth session, capturing different poses and memories in one print.
Print Ideas for Corporate Events:
1. Branded Photo Prints: Incorporate the event logo or company branding on the photo booth prints for corporate events, serving as promotional material.
2. Customized Photo Frames: Design custom frames that feature the company logo or event details, providing a unique touch to the photo booth prints.
3. Logo Watermarking on Prints: Add a subtle logo watermark to the corner of the prints, ensuring brand visibility while maintaining the photo's integrity.
4. Social Media Integration: Offer the option to instantly share photo booth prints on social media, increasing online presence and engagement during the event.
By incorporating these print ideas into your photo booth experience, you can make a lasting impression on your guests and provide them with cherished mementos of the event.
Print Ideas for Weddings
Looking to add a touch of creativity to your wedding? Look no further! In this section, we'll explore some fantastic print ideas that will make your photo booth experience truly unforgettable. From customized photo strips to polaroid-style prints, themed photo booth templates, and photo guestbooks, we've got you covered with a wide range of options. Get ready to capture memories in a unique and personalized way that will leave a lasting impression on your guests!
Customized Photo Strips
Customized photo strips are a fun and creative way to personalize your photo booth experience. They allow you to add a personal touch to your event and create lasting memories. Here are some ideas for customized photo strips:
Add a custom logo or monogram to the Customized Photo Strips to represent your event or brand.

Incorporate themed designs and colors that match your event's theme or color scheme.

Include the date and location of your event to commemorate the occasion.

Use props or accessories that reflect the theme or purpose of your event, such as wedding-themed props for a wedding photo booth.

Create a collage of multiple photos on the Customized Photo Strips to capture different moments or poses.
By customizing your Customized Photo Strips, you can create a unique and personalized experience for your guests. It adds an extra touch of fun and creativity to your event, making it memorable for everyone involved.
Polaroid Style Prints
Polaroid style prints are a popular choice for photo booth prints at events and parties. They bring a nostalgic and vintage feel to the photos and make for great keepsakes. Here are a few ideas for incorporating polaroid style prints into your photo booth experience:
Custom borders: Personalize the polaroid prints by adding event details, logos, or themed designs to the borders.
Guest messages: Leave space on the prints for guests to write messages or sign their names, creating unique and personalized mementos with the polaroid style prints.
Photo albums: Enhance the experience by providing guests with small photo albums where they can store their polaroid prints, turning them into a mini memory book from the event.
Display boards: Increase the enjoyment by creating a display board where guests can pin their polaroid style prints, allowing everyone to see and relish the captured memories.
By incorporating polaroid style prints into your photo booth, you can infuse a touch of nostalgia and ultimately create memorable experiences for your guests.
Themed Photo Booth Templates
Themed photo booth templates offer an enjoyable and imaginative way to enhance your photo booth experience. Below are some exciting ideas to consider:
Fantasy and Magic: Immerse yourself in a whimsical experience with templates featuring enchanting unicorns, mermaids, or mystical forests.
Vintage Glam: Add a touch of old Hollywood glamour to your photos by incorporating retro-inspired designs with vintage patterns and typography.
Destination Themes: Capture the essence of various countries or cities by using templates inspired by renowned landmarks or local culture.
Sports and Hobbies: Celebrate your favorite sports, like football, basketball, or golf, by designing templates that showcase their unique elements. Alternatively, highlight diverse hobbies such as music or painting.
Holidays and Seasons: Embrace the festive spirit with templates dedicated to holidays like Halloween, Christmas, or Valentine's Day. Furthermore, design templates that capture the essence of each season.
Adding themed photo booth templates will elevate the overall experience, making your photos more memorable. So, let your creativity soar as you explore different themes for your photo booth!
Photo Guestbooks
Photo guestbooks are a creative and interactive way to capture memories at events and weddings. They allow guests to leave personalized messages or photos alongside their names, creating a cherished keepsake for the hosts. Here are some ideas to make your photo guestbook unique and memorable:
Instax Instant Photos: Provide an instant camera and have guests take a photo of themselves. They can then write a message on the photo and place it in the photo guestbook.
Photo Booth Prints: Set up a photo booth with personalized props and backdrops. Guests can take photos and stick them directly into the photo guestbook, adding their messages.
Scrapbook Style: Use a blank scrapbook as your photo guestbook. Provide decorative paper, stickers, and markers for guests to create their own pages.
Digital Guestbook: Set up a tablet or a dedicated photo guestbook station where guests can take selfies and leave messages digitally.
The tradition of guestbooks dates back to the 16th century, where they were used to record the names of visitors to country estates. In modern times, photo guestbooks have become a popular alternative, combining the sentiment of traditional guestbooks with the fun and excitement of capturing moments through photos.
Print Ideas for Parties and Events
Looking to enhance the fun at your parties or events? In this section, we'll dive into some exciting print ideas that will take your photo booth experience to the next level. From photo magnets to animated GIF prints, we'll explore a range of creative options to delight your guests. With a variety of options like photo booth props and cutouts, as well as collage prints, you'll discover unique ways to capture and preserve those unforgettable moments. Let's get ready to make memories!
Photo Magnets
Choosing photo magnets as a print option for your photo booth adds a unique and personalized touch to any event. Here are some advantages of using photo magnets:
Memorable Keepsakes: Guests can take home a tangible memento from the event, displaying their favorite photos on their fridge or other magnetic surfaces.

Customizable Designs: Photo magnets, such as the ones we offer, can be customized with event branding, logos, and themes, making them a great promotional tool for corporate events or parties.

Interactive Experience: Guests can have fun posing for photos at the booth, and then immediately receive their printed photo magnets, creating an engaging and interactive experience.

Versatility: Our photo magnets can be used for various occasions, from weddings and parties to trade shows and conferences.
Consider incorporating our photo magnets in your next event for a fun, interactive, and memorable experience for your guests. You can get some great photo booth print ideas from this reputable source.
Photo Booth Props and Cutouts
Photo booth props and cutouts play a vital role in injecting fun and creativity into any event. They offer guests interactive elements that enhance their overall photo booth experience. Below are some popular print ideas that involve the use of photo booth props and cutouts:
| | |
| --- | --- |
| Themed Props: | Present a wide range of props that align with the theme of your event, such as hats, glasses, mustaches, and signs. |
| Cutout Standees: | Introduce life-sized cutouts of popular characters or objects that guests can pose with, like a celebrity or a famous landmark. |
| Speech Bubbles: | Provide speech bubble props that feature witty phrases or customizable messages, which guests can hold up for unique photo opportunities. |
| Customized Frames: | Create frames specifically designed for guests to hold or stand behind to frame their photos and add a personalized touch. |
True story: During a recent wedding, the couple set up a beach-themed photo booth that featured an assortment of props, like surfboards, sun hats, and flamingo floaties. The guests had an absolute blast dressing up and striking silly poses, thereby creating unforgettable memories. The incorporation of photo booth props and cutouts added an extra layer of enjoyment and brought everyone together for a truly remarkable experience.
Animated GIF Prints
Animated GIF prints are an exciting and interactive idea for a photo booth print, bringing a vibrant and dynamic element to any event. By incorporating animated GIFs into your prints, you can make them more engaging and create lasting memories for your guests. Here are some creative ways to incorporate animated GIF prints:
| – Take a series of fun and playful poses that can be combined to form an animated GIF. | – Enhance the GIF by adding a themed border or overlay that matches the event's theme or branding. |
| --- | --- |
| – Offer customization options, allowing guests to add text or stickers to their GIFs. | – Enable guests to instantly share their GIFs on social media platforms, encouraging real-time engagement. |
By offering animated GIF prints, you can provide your guests with a one-of-a-kind and enjoyable experience, while also giving them a personalized keepsake from the event.
Collage Prints
Collage Prints are an incredible choice for capturing and showcasing multiple moments in a single photo. They offer the opportunity to combine several images into one, forming a unique and visually appealing composition. With Collage Prints, you can relive the highlights of a party, event, or vacation in a single frame. They serve as a perfect way to commemorate special occasions such as anniversaries or graduations. By incorporating different poses or candid shots, Collage Prints add depth and variety to your collection of memories. Preserve your cherished moments and create a stunning display with Collage Prints.
Print Ideas for Corporate Events
Looking to add a touch of creativity and professionalism to your corporate events? Dive into the world of print ideas for corporate events! Our sub-sections cover everything you need to know: branded photo prints, customized photo frames, logo watermarking on prints, and social media integration. Get ready to impress your guests with unique and memorable photo booth prints that perfectly represent your brand.
Branded Photo Prints
Branded photo prints are an excellent way to make a lasting impression at corporate events. Here are some ideas to consider:
Customized designs: Incorporate your company logo, colors, and branding elements into the branded photo prints.

Branded frames: Use frames with your company name or logo to give the branded photo prints a professional touch.

Logo watermarking: Add a subtle logo watermark to the branded photo prints to further reinforce your brand identity.

Social media integration: Enable guests to share their branded photo prints on various social media platforms, significantly enhancing your brand's visibility.
By implementing these ideas, you can create branded photo prints that not only engage guests but also effectively promote your corporate brand.
Customized Photo Frames
When it comes to customized photo frames, there are plenty of print ideas that can add a personal touch and enhance the overall experience. Here are a few options:
Engraved Frames: Choose frames with personalized engravings, such as names, dates, or event themes.
Themed Frames: Match the frames to the event theme, like beach-themed frames for a tropical party.
Branded Frames: Incorporate company logos or event branding on the frames for corporate events.
DIY Frames: Get creative and design your own frames using various materials and decorations.
Fact: Customized photo frames not only make great keepsakes for guests but also serve as a subtle form of advertising when branded with logos for corporate events.
Logo Watermarking on Prints
Create a visually appealing logo or text that represents your brand identity for incorporating logo watermarking on prints for your photo booth.
Decide on the location where the logo watermark will be added to the prints, ensuring it doesn't obstruct important details of the photo.
Set the opacity of the logo watermark to be visible but not overpowering, allowing the main image to still shine through.
By adding a logo watermark, you can deter unauthorized use and ensure your brand is recognized when the prints are shared or displayed, thus protecting your prints.
Consider these suggestions to effectively incorporate logo watermarking on prints and elevate your photo booth experience.
Social Media Integration
Social media integration is an essential feature for photo booth print ideas because it allows guests to conveniently share their photos on popular platforms like Instagram and Facebook. This feature significantly enhances the overall guest experience and boosts event awareness. It is important to consider the following benefits of social media integration in photo booth print ideas:
Instant Sharing: By incorporating social media integration, guests can instantly post their photos online, thereby increasing the visibility of the event and creating excitement among attendees.
Customizable Hashtags: A great way to encourage guests to use event-specific hashtags when sharing their photos, making it easier to track and organize user-generated content on social media platforms.
Brand Exposure: Through logo watermarking on prints, every shared photo becomes a powerful promotional tool, effectively increasing brand exposure.
User-generated Content: Social media integration facilitates the generation of user-generated content, which can be utilized for marketing purposes even after the event concludes.
Pro-tip: To ensure seamless sharing, it is recommended to provide clear instructions and set up a designated social media station for guests to easily share their photos.
Frequently Asked Questions
1. How can I create interesting photo opportunities with multiple hanging frames in my photo booth?
To create interesting photo opportunities with multiple hanging frames, you can incorporate them into your photo booth setup. Guests can interact with the frames and strike fun poses for memorable pictures. This idea works well for group photos and adds a unique touch to your photo booth experience.
2. What is a drop shadow, and how does it enhance the dimension of photos in a photo booth print layout?
A drop shadow is a visual effect that creates the illusion of depth and dimension in an image. In the context of a photo booth print layout, adding a subtle drop shadow to each photo gives them a three-dimensional appearance, making them visually appealing and adding depth to the overall design.
3. Can I upload my own images to be included in the photo booth print layout?
The ability to upload your own images for inclusion in the photo booth print layout depends on the specific service or software you are using. Some providers may offer this feature, allowing you to personalize the photos and make them unique to your event. It's best to check with your chosen provider or software for their capabilities regarding image uploads.
4. How can I get expert support or guidance when creating custom photo booth prints?
Getting expert support or guidance when creating custom photo booth prints can be beneficial to ensure you achieve the desired results. You can reach out to event stylists, photographers, or graphic designers who specialize in photo booth prints. They can provide valuable insights, tips, and assistance in creating high-quality and visually appealing prints for your event.
5. Are photo booth print layouts available for sale as photostrips or individual prints?
Yes, photo booth print layouts are often available for sale as photostrips or individual prints. Sellers on platforms like Etsy offer a variety of options, including retro-style photostrips or vintage photobooth photostrip-style prints. You can browse through their listings to find the style that suits your event and choose between purchasing photostrips or individual prints based on your preferences.
6. How does free shipping work on Etsy for photo booth print purchases?
On Etsy, many sellers offer free shipping for orders of $35 USD or more within the same shop. When purchasing photo booth prints, you can check the seller's shipping policies to see if they qualify for free shipping. If your total order value exceeds the specified amount, you will not be charged for standard shipping within the same shop, making your purchase more cost-effective.